THE STORY BEHIND CAMERA WITH A PAINT BRUSH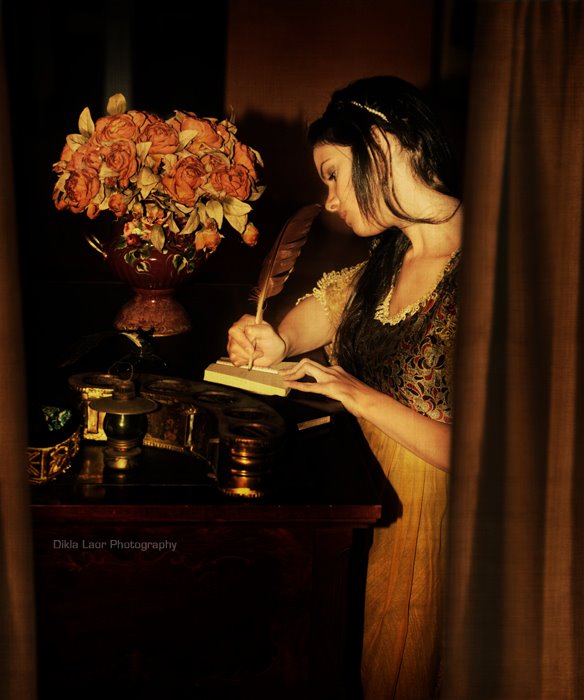 "Camera with Paintbrush" is actually a fulfillment of an idea I had cooking for two years – photographing an era of working and laboring women.
The first influence was actually from Velasquez painting "The sewing woman". The painting describes a woman concentrated on "doing" the sewing, a whole piece of art was dedicated to document this woman sewing. I found so much peace and softness in the painting – the simplicity of everyday against the genius and the process needed for producing the creation.
From here I started collecting paintings of that era which document simple tasks, everyday doing documenting secular in holiness I have always been fascinated with the renaissance: the description of wholeness, beauty and details.
The little details are a wonder for me, if I could paint like that I would not choose photography…
collecting the paintings gave me the idea to try and "paint" with a camera to create the same atmosphere in those paintings – periodic photography of women, some while laboring.
The camera allowed me to document staged detailed scenes sometimes too technically. That is where photo processing comes in: since I actually asked in this project to reach the same atmosphere as existing in these wonderful paintings, I have weaved textures I have created in the work process and combining layers on the photos, through them I tried to copy the atmosphere, colors and lighting with constant compression to the painting collection.
The project was shot at the house of Donna Gracia museum, Tiberius, Israel. that freely let me use all its facilities and clothing collection. Photographing in Donna Gracia's house have birthed an added value which is expressed in the story of Donna Gracis/Hanna Nasi on the photo shoot. During planning a scene sometimes I found myself accidently trying describing parts of her life story. In all pictures motives of the lady herself can be found. Since it was not the intention I find sort of "magic" in it.